Sooo…it's Peppermint Mocha time at Starbys and I love love looooove red cups. Imagine my sheer glee when I realized that I can not only pay for a venti with my phone, BUT that I can send one via the world wide web to a high school friend who lives 10 hours away…Neat-o!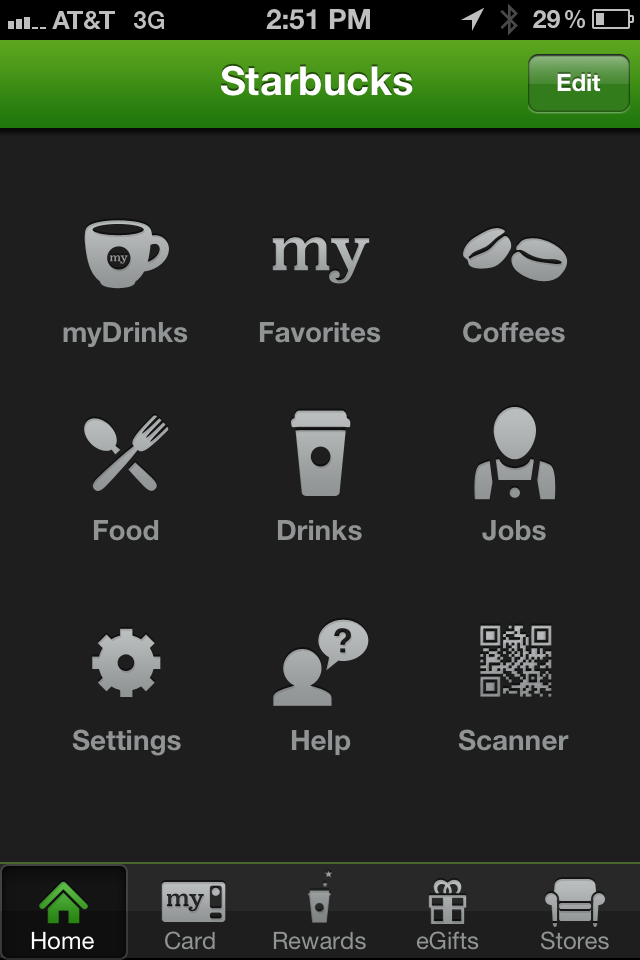 Yup, Starbucks has an app. (Well, actually they have three, but I'll go into that later.) Two of my favorite things combined — technology + coffee =  download ASAP.
It's free and it's in the App store. The interface is very user-friendly and does a little bit/LOT of everything. Here's a list of features:
Drinks: Create and store your favorite drinks AND those of your friends
Favorites: Create and store locations, coffee types and foods
Coffees: Get full descriptions, photos and recommendations for the entire line of Starbucks Coffees
Food: Find nutritional, allergens and calorie info for foods available at Starbucks
Drinks: Create and store customized drink builder with nutritional information using a step by step process
Jobs: They have a pretty green brand…
Settings: Your profile
Help: Help
Scanner: Hellooooooo, QR Code scanner…LOVE
My Card: Store card and transaction history, PLUS allows easy balance reload by storing card info
Rewards: Birthday Coffee?! Yes… I'm so in!
Gifts: Brighten someone's day – no matter how far away they live!
Stores: Location, location, location…
It's sustainable – no cards, no paper, just environmental goodness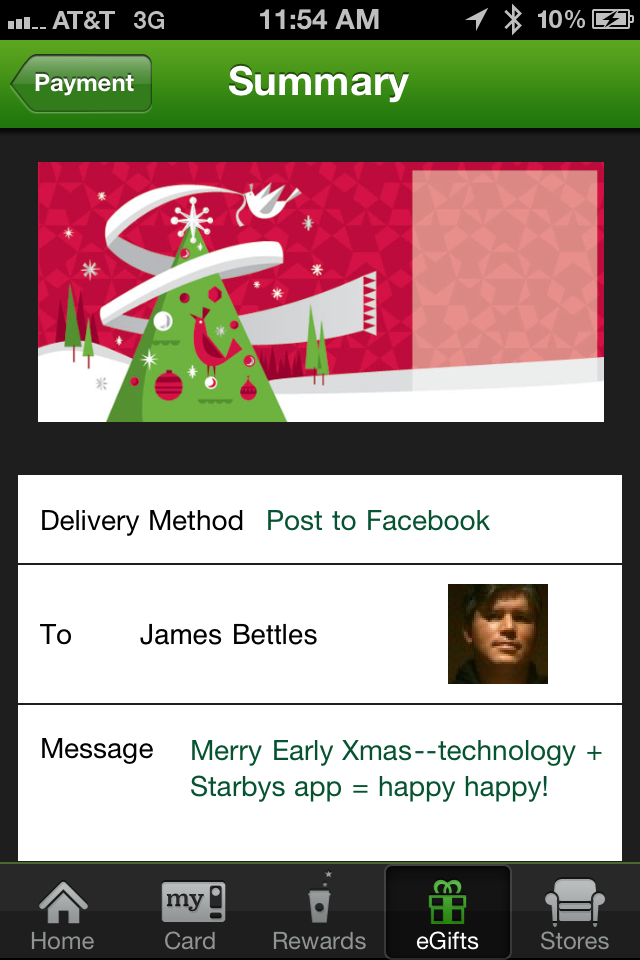 Long story short, if you love coffee or know someone who might enjoy getting a coffee, you might want this app. You can gift, buy and discover all things Starbucks Coffee. I am a Starbucks maniac and had heard about the app from a friend a few months ago. Since I first downloaded, I've tracked over $100 in purchases, reloaded and surprised a friend with a free coffee on his Facebook wall.
Aside from Dunkin' Donuts, Starbucks seems have the coffee company app market cornered. In comparison, the Dunkin' Donuts app is limited to locating stores and feedback via a discussion forum, versus the fully customizable interactive app from Starbucks.
A word of caution, as I mentioned before there are three Starbucks apps available; the actual Starbucks App, the Starbucks Card App, and the interactive Christmas Starbucks App, for the real brand enthusiasts.
To locate and install the correct app, just search for Starbucks and look for the green mermaid. Or, download right now.
(Oh, and if you want to test it out, feel free to send me a coffee…shannon@redbridgeonline.com…yes? No?)